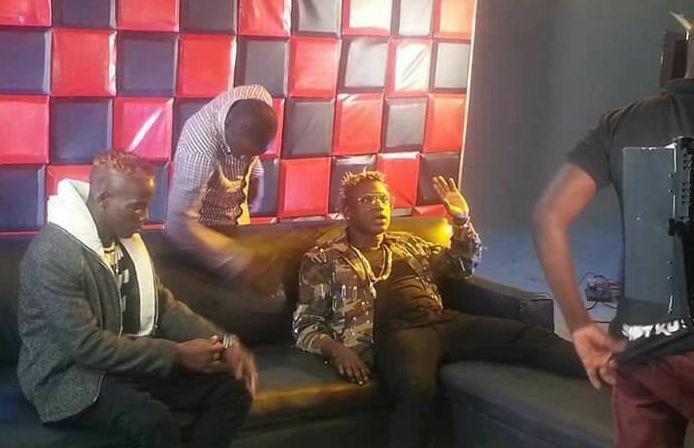 Musician Lil Pazo of the "Genda Ogule Emotoka" fame has kicked off the new year in high gear musically. Lil Pazo is already cooking something new for his fans. He has revealed that he is working on a new music...

The post Photos: Lil Pazo and Gravity Omutujju shoot new music video appeared first on Bigeye.ug....
Published By: Bigeye - Wednesday, 11 January
Older News
COUNTER ACCUSATIONS: NBL Heaps Blame on Agency for the Club Music Video Awards Melee as Fete is in Limbo Investigator Gossip (2 days ago) - Word coming in from the Luzira based Nile Breweries LTD, has it that  there is a storm brewing in a tea cup between the company and the Agency Moringa Ogilvy   ...
It's a wrap! Coco Finger completes shooting high budget music video Kampala Sun (3 days ago) - Luo ambassador and dancehall musician, Coco Finger (Moses Okori) is in cloud nine. The singer is elated after the completion of a video shoot for his highly acclaimed song, Woman....
PHOTOS: Mesach Semakula spends a fortune on 'Teri Zimala' Video shoot E-News (3 days ago) - By staff writer With only a few days are left to Mesach Semakula's 2017 concert dubbed 'Totya Bigambo' VIP Concert, which will be held at Hotel Africana, Nile Hall on...
Bebe Cool saga deepens: Hipipo Music Awards Vs Club Music Video Awards, the Untold story!! E-News (3 days ago) - By our reporter For starters, Hipipo Music Awards have have been held successfully for the last four or five years, and in the course of their existence came about the...
PHOTOS: Mesach Semakula Spends Fortune on "Teri Zimala" Video Shoot Chimp Report Entertainment (3 days ago) - Singer Mesach Semakula on Friday (February 17) shot the video of his single titled, "Teri Zimala".  Directed by popular Ugandan video director Zyga Phix, the video of the song was...
Here's why Sheebah was nominated in the Club Music Video Awards Bigeye (3 days ago) - Fans were left in shock on Thursday evening after Sheebah Karungi unexpectedly decided to pull out of the Club Music Video Awards. According to Team No Sleep manager, Allan Kiwa, they...
TNS Finally Reveals Why Sheebah Pulled Out Of Club Music Video Awards Chimp Report Entertainment (3 days ago) - Yesterday, a shocking statement from Team No sleep Management made rounds on social media indicating that 'Kisasi Kimu' singer Sheebah Karungi had pulled out of the forthcoming Club Music Video...
Club Music Video Awards Unshaken Despite Bebe Cool's Nominations Withdrawal Chano8 (3 days ago) - It was not a joke when Big Size Bebe Cool recently announced that going forward, he no longer needs to be nominated in or associated with any Ugandan local awards....