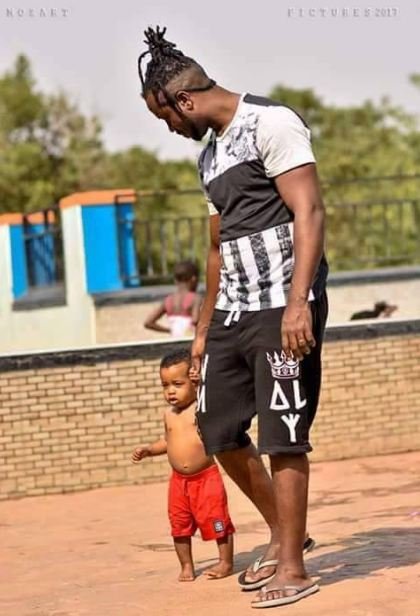 Local musician Bebe Cool is a family man, at least going by new photos that have emerged online. According to the photos, the "Love You Everyday" hitmaker appears to still set aside time to be with his kids and wife amid his busy schedule...

The post Photos: Bebe Cool enjoys quality time with son. appeared first on Bigeye.ug....
Published By: Bigeye - 7 days ago
Older News
Bell Takes Gabon Experience To Najjera How We (Today) - The event featured a surprise half time performance by avid football enthusiast, Bebe Cool. He performed his recent songs namely Azina Asekka, Kabulengane and Sente....
Bebe Cool set to release Uganda Cranes anthem Bigeye (Today) - Bebe Cool is set to release a Uganda Cranes anthem. The "Byebyo" hitmaker and Uganda Cranes ambassador has announced that the anthem will be titled "Lumba". According to Bebe, it...
Bebe Cool to Release LUMBA, a Song to Comfort the Cranes Ugblizz (Today) - For the whole existence of the Uganda Cranes the official national team of Uganda, the team has never had itsThe post Bebe Cool to Release LUMBA, a Song to Comfort...
Photos: Angella Katatumba enjoys boat cruise, flaunts sexy body Bigeye (Today) - Songbird and philanthropist, Angella Katatumba has started the New Year in style. The "Mulago Yaffe" singer recently took time off to pamper herself and escape the hustle and bustle of the city....
Bebe Cool Set To Release Uganda Cranes Song Xclusive (Yesterday) -   UGANDA CRANES celebrity ambassador Moses Ssali alias Bebe Cool is set to release a brand new single for the Uganda Cranes. The singer has today revealed he will be...
Photo: Zuena Kimera is the most down to earth celeb, here is why Bigeye (Yesterday) - By Prim Kembabazi Musician Bebe Cool's wife, Zuena Kimera is one of the most humble people in the Ugandan celebrity hood. Zuena has over time proved that being a celeb...
Bebe Cool steps up beef with Bobi Wine, steals musician from him Bigeye (Yesterday) - By Prim Kembabazi Musicians, Bebe Cool and Bobi Wine have been enemies for the longest time. According to Bobi, the two don't agree on basic things and ideology and for...
Bebe Cool sets 'tough' conditions for Dizzy Nut's return to Gagamel Eagle (2 days ago) - Bebe Cool, real names Moses Ssali, has finally forgiven former Gagamel member Dizzy Nuts and returned him to the crew, with a strong warning to the latter to quit 'weed'. Dizzy...
Musician Dizzy Nuts denounces Bobi Wine, joins Gagamel Show Biz Uganda (2 days ago) - Struggling singer Dizzy Nuts has officially joined Bebe Cool's Gagamel International Crew. The singer who has seen his career almost hit a dead end, denounced Bobi Wine on Friday night...